Specialized Green Funeral Planning Services in Hyderabad 
Funerals are never an easy topic to discuss or read. However, funerals underpin a necessary part of our grieving journey. Funerals reinforce the reality of death and they allow a safe and appropriate space to express our feelings and share our emotions. 
Vaikunta Mahaprasthanam offers the best green funeral services in Hyderabad. We provide families with a safe place to mourn and grieve for their loved ones with the best facilities and eco-friendly funeral services.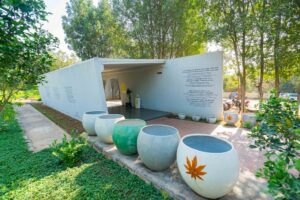 What is a Green Funeral?
Simplicity and environmental sustainability are the two cores of a green funeral. Bidding farewell to your loved one in the most appropriate way without harming the environment. By performing a green burial/natural burial, you can honor the dead in a way that does not have a great deal of environmental impact. Green burial also helps in conserving natural resources and habitats, protects funeral industry workers' health, and reduces carbon emissions.
Going Green!
Climate change is real and people are realizing the effects of climate change. For a few years, people are becoming conscious of the environmental effects of funeral services. This realization has attracted more people to green funeral habits. In addition to switching to eco-friendly alternatives, they are creating communities to inform and engage others. Going green has now become a lifestyle that helps to build a new future.
How is green burial different?
The farewell to our loved ones should be memorable and appropriate with all the importance and religious services. However, with the help of Vaikunta Mahaprasthanam, we can arrange the best funeral and cremation services in Hyderabad without any environmental constraints.
There is no clear definition for a green funeral, but with the correct guidance, you can plan a funeral for your loved ones without causing less harm to the environment. As per the latest statistics,  one city requires the cutting of about 4 lakh trees just for generating wood for its cremation services. There are other smarter alternatives for burial services.
Here are some examples of how we can reduce the environmental impact:
Substituting the firewood with cow dung logs

Substituting your non-biodegradable caskets with the biodegradable eco-coffins 

Planting a tree as a memorial

Electric

and CNG-based

cremations
Water cremation

also termed alkaline hydrolysis is a process of discarding the human body using lye, water, and heat

Organizing minimal vehicles for funeral attendees
Death is a painful experience, but it can be comforting when your death helps lessen the negative environmental impacts. There are many ways you can make your burial green ranging. Vaikunta Mahaprasthanam provides eco-friendly and best funeral & cremation services in Hyderabad.